COMPASSIONATE TRANSMISSION
TAKING REFUGE - MEDICINE BUDDHA INVOCATION
'A SACRED HEART AWAKENS IN A PURE LAND'
Mixed Media, 2018.
Dana McCool
In collaboration with Sunjye & Justin Gillis
This installation is currently on display at The Joy Clinic.
Contact the Artist for more information on viewings.
This work of art is an expression of what it means to be human. It is the response to a long period of seeking personal expansion within the truth of being. As an invocational image of presence, this is an entity of collaborative origin among a circle of three spiritual friends. Serving as craftsperson, philosopher, assistant and model, we are practitioners with lived experience from within the Buddhist faith. As a trans-personal, intra-psychic collaboration that explores archetypes of higher being and spirit presences, this is a vision of healing cosmic forces outside of time, and thus a visionary endeavor. Many items within this work are "found" art objects which are considered to be gifts from Spirit during the unfolding of this gateway, resulting in a truly reflexive manifestation process. The shared space of presence and attention experienced here comprises an invocation. Please take note of the use of colour harmony and contrast in this environment of vision: As a religious and shamanic gesture, it is key to a Tantric praxis of being in harmony with the elements and forces of nature. Thangka painting is an enlightened activity, the result of which invites the viewers to enter into the calm pure lands where higher being resides. Moreover, this mindfulness engenders every aspect of Buddhist art. The tradition represented here is a genuine effort of personal centering facilitated through the investment in an ideal compassionate being - therefore, a movement of our collective human visualization.

Four elemental protectors oversee a sacred world, featuring one who embraces the mirror-like wisdom of an expanse of water. Enthroned upon a lotus of awakening, our sacred being sits beneath a clear-minded blue sky and cosmos, enjoying the golden rays of the solar absolute and its sublime lunar reflection. In one eternal mudra-gesture of expansive clarity, the Earth Goddess becomes the witness of our lightening-bolt transformation. Before us, the ritual bell and dorje represent the skillful means of compassion and wisdom in our pursuit of the enlightened mindstream. A visualization of the astral body - composed of blissful vibrational light, as in traditional Thangka painting - transcends the politics of place and time in order to bring us beyond the threshold of ego. The Sacred heart draws syncretic parallels to western spiritual leaders in tune with the opening of the Heart-Dharma. The Medicine wheel turns with omnidirectional potency, as the view of the awakened state reveals a luminous essence of unified presence. In a display of dynamic living symbols, we present here a portal into the Vajrayana path, in reverence of ancient Tibetan magic.
The Medicine Buddha is one of many renowned universal archetypes representative of divine healing. What is healing? Healing is to become whole, to enlighten one's whole self in union with the heart of being and the nature of the universe. In the pursuit of profound holism and a more numinous politics of experience, consumer paradigms of 'mental health' identities are here dissolved in the light of a higher devotion to an ultimate nature. The archetypal force we wish to illuminate in order to transcend the 'mental health' identifications shrouding our species in this 21st century, capitalist apocalypse of consumer culture involves a radical transformation of perception. In the balancing of our inner elements and demons and through true equanimity, we seek liberation in entering the path of non-attachment to suffering. By seeking refuge in something beyond our identities of psyche, we acknowledge that we cannot affix constructs, concepts and labels to the ever changing flow and motion of the universe and it's 'realities'. An exaltation of authentic Self as deified, universal and blissfully empty of personalities is a radical answer to the collective wound of self-alienation. The Truth of being Human in alignment with universal wisdom and compassion is the antidote to the fragmentation of the world Soul. By means of ethos and mythos, this vision represents a transmission of the Dharma into the Western consciousness. This Invocational space is made possible by means of presence and attention on the infinite charisma of the Medicine Buddha.
Accessing Buddhism as universal and transcendent, we take Refuge in the Buddha, the Dharma, and the Sangha. As a performative extension of this work into the unseen planes of experience, we have arranged to participate in an Akshobya empowerment on Saturday May 5th - occurring real-time during this graduate exhibition. An empowerment in this faith comprises an esoteric transmission of the tantric deity and lineage into our incarnational lives and thus, this living work of devotional art that we have facilitated for you, the audience. As stated by the Karma Sonam Dargye Ling temple: "The purpose of the Akshobya practice is to offer us a method which prevents our mind being overwhelmed by negative emotions, especially anger and hatred. Khenpo Tsulnam Rinpoche will kindly bestow this valuable empowerment." Please see the flyer included here for more information about this religious organization and service, which is open to the public. Furthermore, we have included a brief explanation of the Medicine Buddha mantra and the five elemental associations (also called the five wisdom Buddha families) in Vajrayana Buddhism here for our audience to contemplate as the healing presences are enjoyed. We dedicate this practice to the highest benefit of all beings, seen and unseen.

Resources
More Information on Karma Sonam Dargye Ling's services & schedule can be found here. (Tibetan Buddhist Temple)
OCAD UNIVERSITY - GRADEX 103 EXHIBITION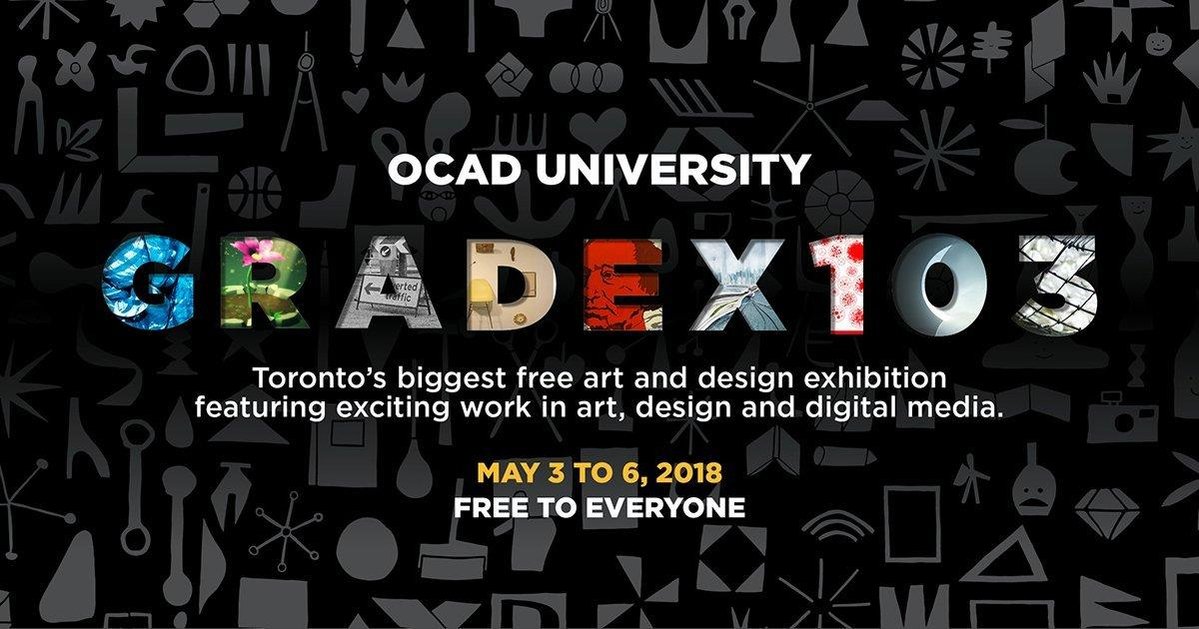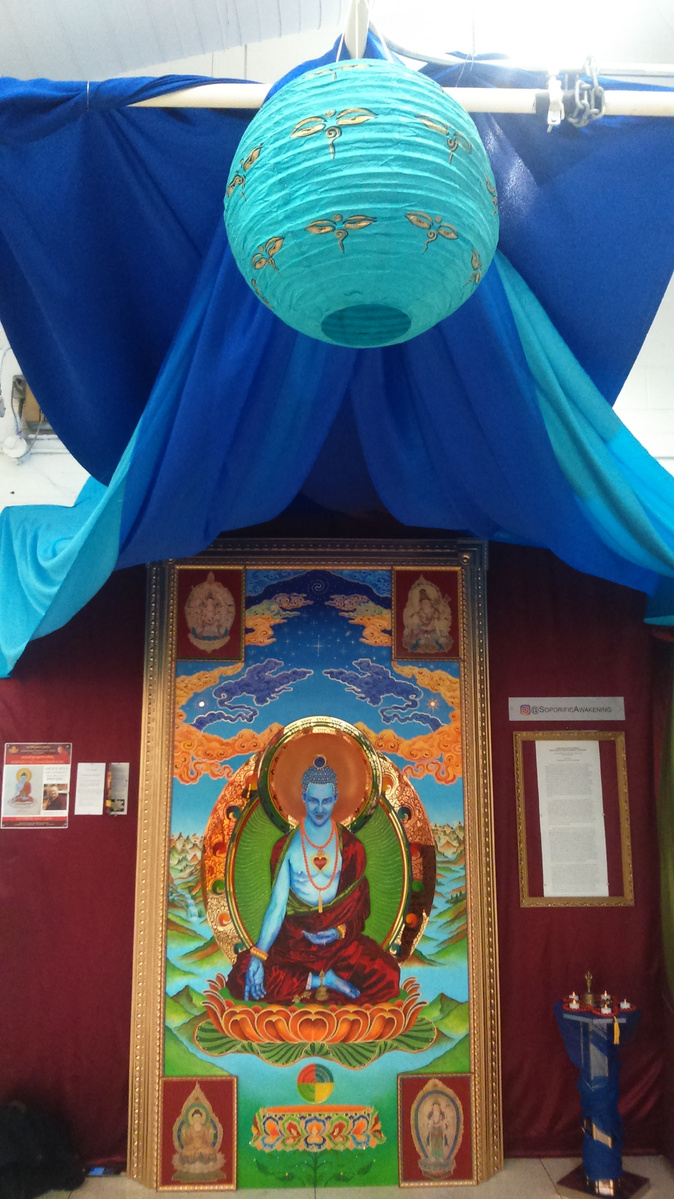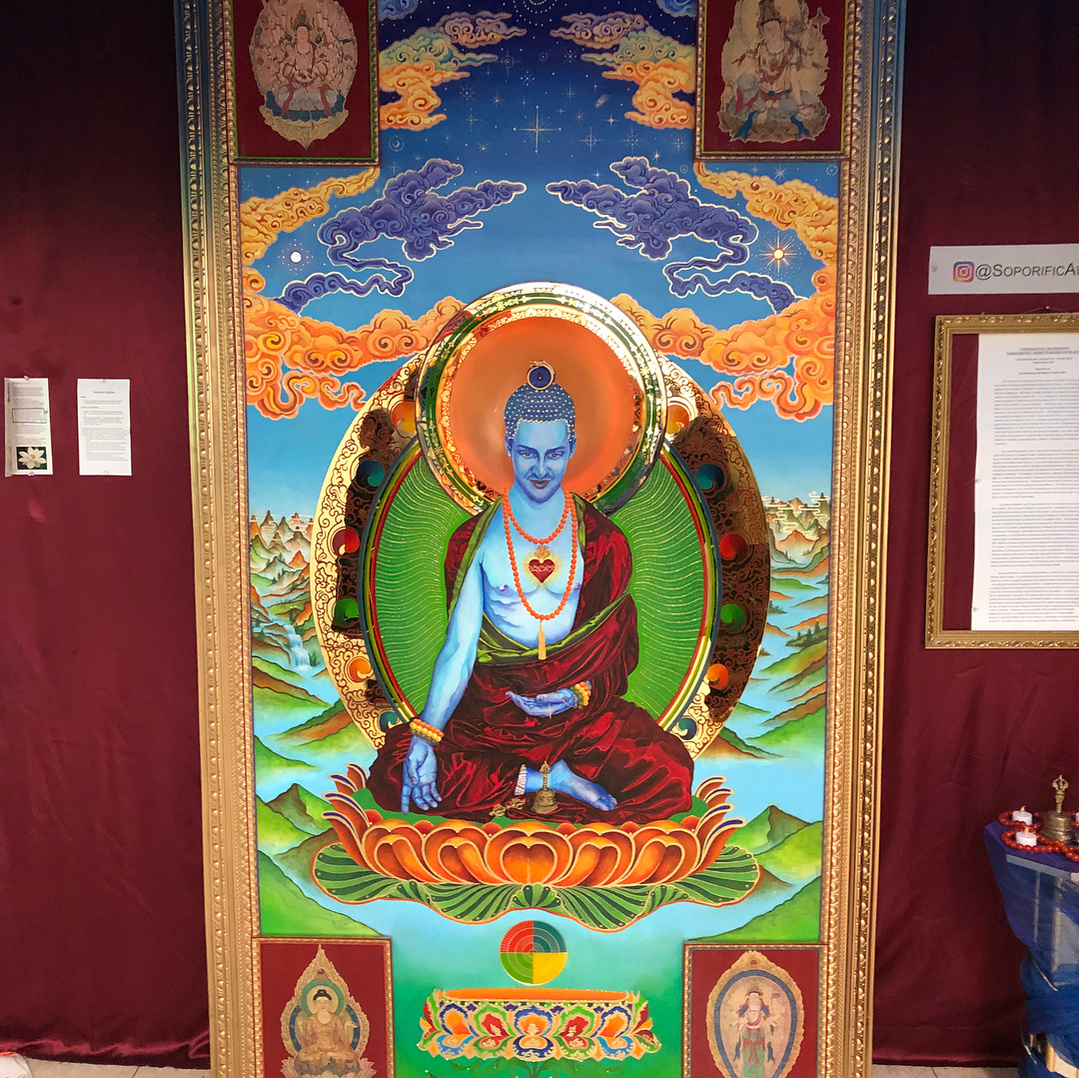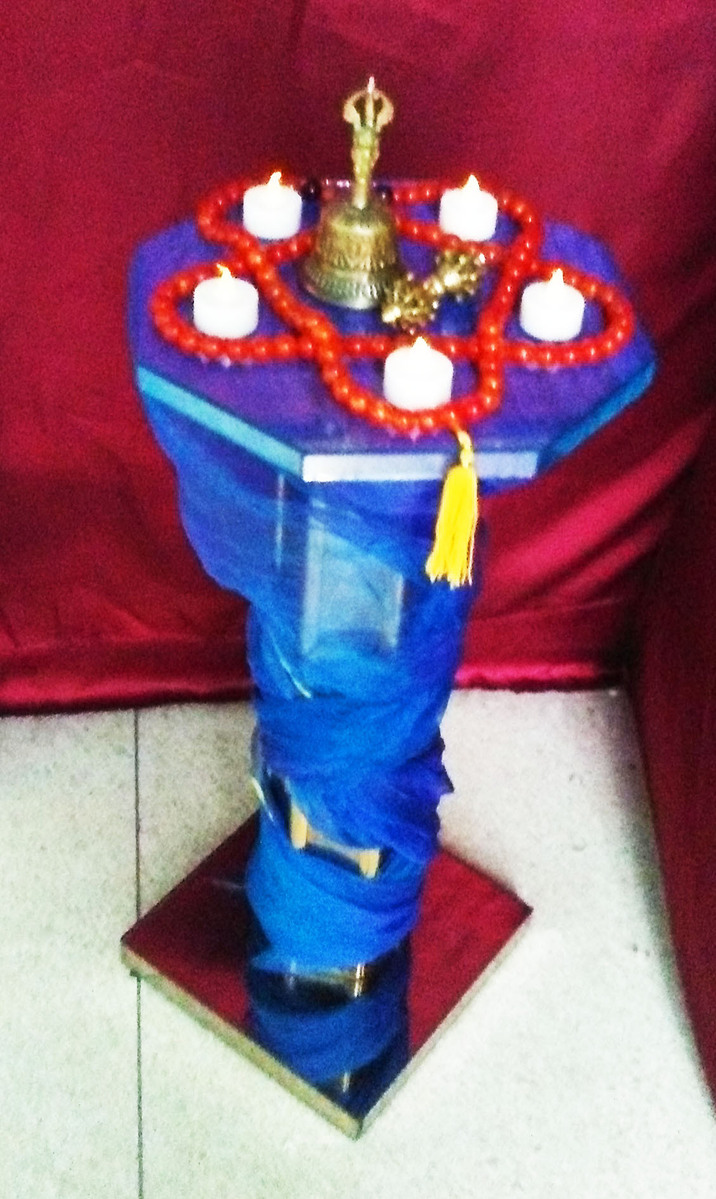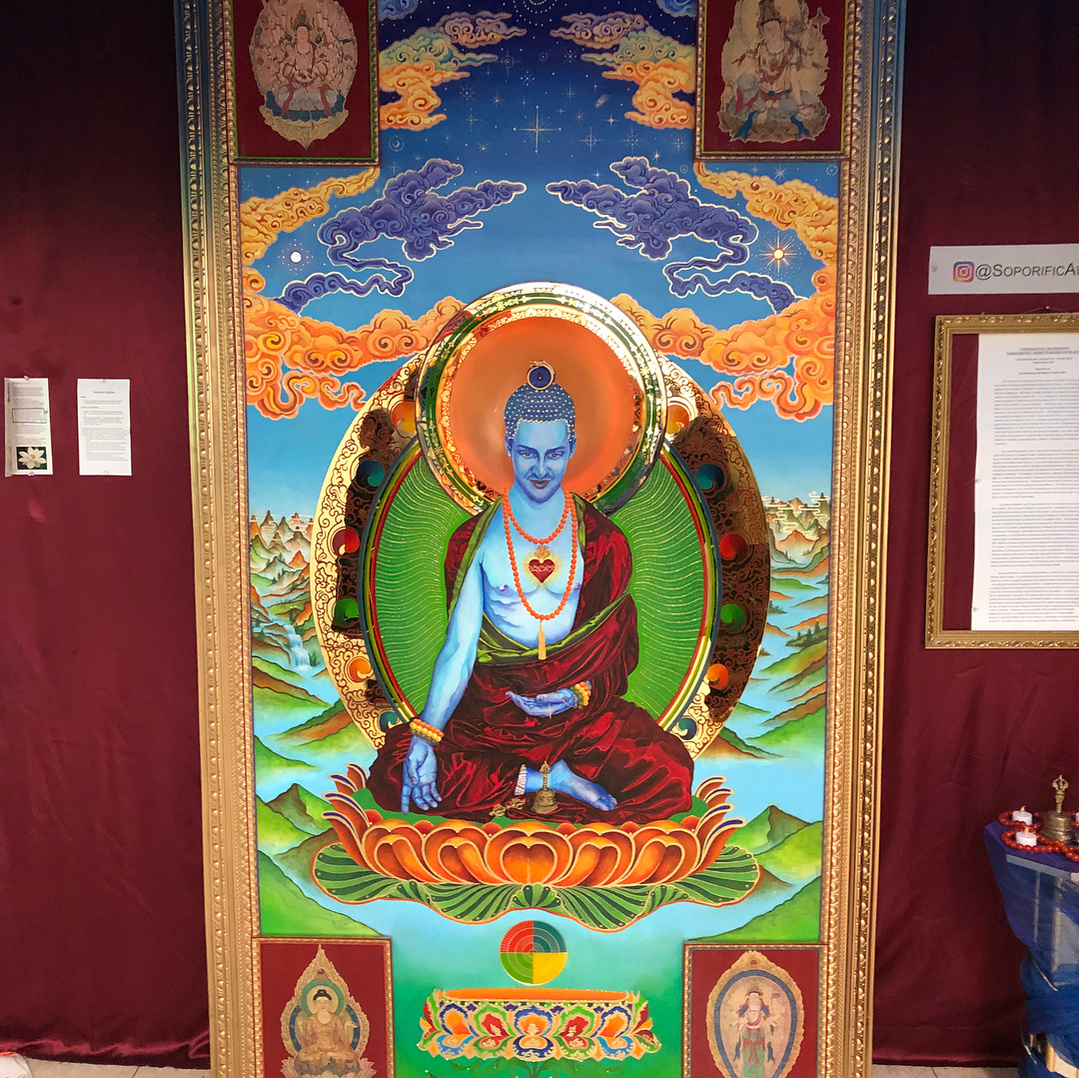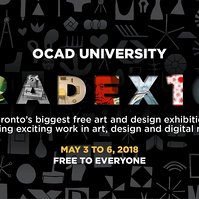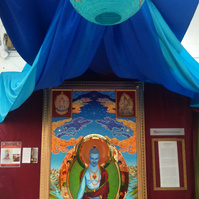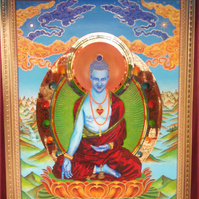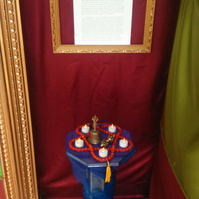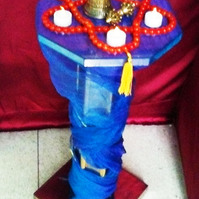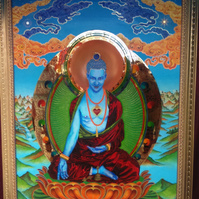 THE TORONTO VISIONARY ART EXHIBIT - FEATURED ARTIST OF 2018